I tried on my Glynis sock yesterday, and realized that I had decreased too slowly on the gusset, so I decided to re-make the heel. And then I figured that as I had cast on too tightly (as always, why don't I ever learn?!), I might as well start over completely. So into the frogpond it went! I've now made about 2 inches (5 cm) of the leg, but it's a relatively fast knit so I think I'll finish them in a week or so. Although tomorrow at midnight I will FINALLY cast on for the Aeolian, and start my 10 shawls in 2010! I can hardly wait!
And Thomas is getting really sick, so we decided to cancel our party plans for tomorrow. I'm starting to feel a bit under the weather too, but hopefully the cold-pills I'm taking will keep me healthy for a while longer at least! I'm guessing that we'll just sit around and watch a movie or two tomorrow night, and toast each other on the stroke of midnight. And then I'll knit :)
As I haven't got any knitting to show you, I thought we would continue with the me-trivia. And this time I think I'll talk a bit about what kind of music I like. Most people assume that I like heavy metal, as I'm married to a real metal-head (he listens to a lot of other things too, but metal is the gengre that he always comes backto), but I like to think of myself as more of a rock-chick than anything else. I'll just tell you a bit about the bands and artists I like best.
First and always: Queen. My parents have listened to them since they began in the 70's, so me an my sister grew up around this music. I LOVE LOVE LOVE them, and was so sad when Freddie Mercury died in '91. I've even been to London to see the musical We Will Rock You twice, and my mother actually got to meet the guitarrist, Brian May, when she and my father were there. I'm not jealous at al. Nope, not me, no no...
My second music gods are Simon & Garfunkel, and I particularly love Paul Simon's voice. He doesn't sing through my ears, the music goes straight into my heart. I've seen Paul Simon live solo twice, and Art Garfunkel solo twice as well, and in 2003 my whole family went to Stockholm and saw them together on their reunion tour, Old Friends on Stage. It was one of the most amazing nights of my life, and I cried the whole time. Even my dad was a bit teary-eyed, and he's the most ridiculously macho man I know.
There is also an american band called Live that I really like, and I've seen them twice too. I love their kind of rock/pop, and the singer has such an amazing voice. I went to the Roskilde Festival in 2000 to see them, but that was the terrible accident year, where 9 people died during the Pearl Jam concert, so almost all the bands, including Live, cancelled. I really wished I had seen that tour, as that record (The Distance to Here) is one of my favourites. But oh well, at least I've seen them twice since then!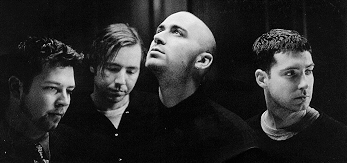 I don't listen to a lot of female artists, and I don't really know why, but there is one woman whom I really adore: The american singer/songwriter Heather Nova. Her voice is unbelievable, and so far all her records have been terrific. I actually got to see her as well, when she played in Gothenburgh a couple of years ago (I think it might have been in 2005, but I'm not sure), and she sings just as amazingly live.
Oh, and this spring I also discovered scottish singer/songwriter Amy MacDonald (who is obviously also a woman). She is so young, and has such a strong and special voice! Me and my sister went to Stockholm to see this summer wher when she played a gig at Gröna Lund, which is actually an amusement park. She said during the gig that that was the weirdest venue she had ever played at, with all the roller coasters going by, and people screaming all around her! But the show was really good, and she is such a talanted singer!
I discovered another new - to me - talent this spring, namely british indie singer Morrissey. I love his sort of Elvis-like voice, and the music is right up my alley. Me and my sister went to see him when he did a show in Borås (of all palces!) this summer, and it was a great show! His new album, Years of Refusal, is great! Ad I'm so happy that Spotify finally decided to add some old The Smiths records as well (Morrissey was the lead singer of Smiths).
A couple of years ago me and Thomas discovered Johnny Cash as well, and it's so funny that I like him as I'm really no fan of country otherwise. I guess it's that incredible voice that does it for me, and I love both his original songs and his covers. I found a lot of Christmas songs by him when I was searching for good Christmas music on Spotify, and even sappy, boring songs become beautiful when he sings them.
I also like a lot of the 70's rock bands, like Pink Floyd, Deep Purple, The Doors and such. I grew up listening to a lot of 50's and 60's music as well, and I just love that era generally. I wish I had grown up among all those gorgeous clothes and all that music, although I have to admit that I'm actually glad that I don't have to live through the women's liberation... I'm quite happy with our rights today, even though a lot can still be improved world wide!
When I was a teenager and "rebelled" against my parents (I was really a very nice teenager, I only remembere one big fight I had with my mother at all), it wasn't very cool to listen to what your parents listened to any longer. So I discovered grunge, and for a while I listened to Nirvana almost exclusively. I liked most Seattle-based bands back then, but Nirvana was the greatest. I cried when Kurt Cobain died, it was such a tragedy! I actually sat a whole day at the office a couple of weeks ago, rediscovering the old grunge bands (in my headphones), and made a grunge playlist on Spotify with Nirvana, Alica in Chains, Soundgarden, Stone Temple Pilots, Pearl Jam and Smashing Pumpkins. It's too bad that drugs have taken way too many of them!
So as you can tell, I like music. A lot. I've sang myself for a lot of years, mostly in different choirs, and I don't know what I'd do without music. Now I mostly sing in the shower, but I still love it. But right now I don't really have time for any serious singing in my life, what with all the work and all the knitting. Plus I want to write fiction some day too (that's my life-long secret dream, so now you know that about me too)...
Ok, I think I'll leave you with that to muse on (that's another great band, Muse...). I'll report after New Year's Eve and tell you how many shawls I cast on for!
Happy New Year, all of you!
/ Jenny